MARK LLOYD - TWO PASSIONS, MANY DREAMS
So, what came first, Teaching or Acting?
Acting whilst still at school and around 11/12 years old, I found I was really interested in using my imagination, pretending and immersing myself in acting. When I left school, I went on to perform in community theatre before going to University, where I graduated with 1st class degree honours in Applied Drama. I then created my own theatre company whilst still supporting myself through teaching, which I have continued to do since coming to Thailand 7 years ago.
I know you have a one-man show. Can you tell us about it? "Every Brilliant Thing" is about a young boy who writes a list of everything he finds brilliant with things as diverse as roller coasters through to the colour yellow. He writes the list as a gift for his mother who has tried to take her own life to show her what is still brilliant about life. The play then evolves from the child's gift to his parent to his own journey dealing with mental health issues and finishing ultimately with an expression of hope
I believe you have performed this here in Pattaya.
Yes, back in 2019, I performed it at Rabbit Resort and Ben's Theatre in Jomtien. Also at Dorothy's Jomtien and Ekkolo Theatre in Bangkok. This year, St Andrews International School Green Valley asked me to revive it as part of their arts festival. I will be taking it to Bang Saray later this month and even have plans to perform it in Cambodia
Do you find your acting skills useful when teaching and running a school?
Yes, because teaching is very much like performing. You have to keep your class attentive and entertained and of course, being good at public speaking is good for talking to both pupils and parents alike.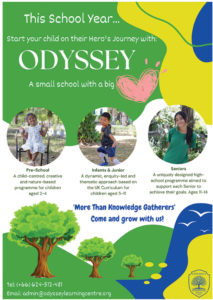 How has your Odyssey school developed in the last couple of years?
Since the bad days of Covid when some saw us as a refuge from all the online learning, I have been able to develop a space for a holistic way of teaching and learning. We have now grown to a school of 40 students ranging in age from 2 to 14 years old.
I've been to your school at HorseShoe Point and have to say it's in an idyllic setting
 Yes, it's beautiful here with horse riding and nature trails. Quite often we will start a lesson in the classroom and then take it outside to sit by the trees. I find being outside amongst nature is really beneficial for the children.
 What are your plans for the future?
I never want to see the school become too big and lose its family feel. Instead, I would rather develop several campuses so we can keep small class sizes and continue to give the children the personal attention they enjoy at the moment. I'd like to have a Thai school modelled on our English-speaking one. A vocational school for adults where their children could also attend the nearby Thai school – lots of plans – lots of dreams.