Mr. Charles Grayhurst Head of School at St. Andrews International School, Green Valley
Interviewed by James Kemp, Deputy Head of School at The British Learning Centre
St. Andrews International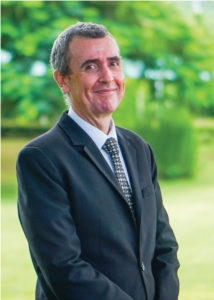 School, Green Valley, sits nestled within the stunning forested hills of Rayong, surrounded by farmland and close to Rayong Green Valley Country Club. It is from this setting that St. Andrews draws its unique feel and much of its educational ethos. I met with their new Head of School, Mr. Charles Grayhurst, to discuss his vision for the school and its future. Mr. Grayhurst took over at the helm of St. Andrews in September of last year, bringing with him 25 years of experience as an educator including headships in China, Dubai and Malaysia. With a background of establishing successful 'green' schools in Asia, his background makes him a perfect fit for St. Andrews. During my tour of the school and its grounds, it became clear to me that eco-literacy and an appreciation for sustainability and the natural world are not just buzzwords here, but deeply held values that are ingrained into school life.
Throughout our walk around, a feeling of light, space and being situated within the natural environment was evident. Mr. Grayhurst proudly pointed out the ambitious growing project that the school has begun, under his tenure, where local plants and crops are grown to become an active part of the student's learning experience: Lipstick Palm is being grown near the Art studios, where it will be used to create paint pigment; older students have self-funded a hydroponic growing project as a part of their business studies. The school's dedicated Forest School area has also recently seen an expansion to include an Outdoor classroom, enabling deeper opportunities for true outdoor education. All too often eco-literacy is delivered tokenistically; this is not the case at St. Andrews, where it is taught with enthusiasm, rigour and purpose to equip students with the knowledge, skills and competencies that they will need in an uncertain future. The school employs both an Outdoor Education Coordinator and Place-Based Education Coordinators, something which demonstrates its commitment to this style of learning.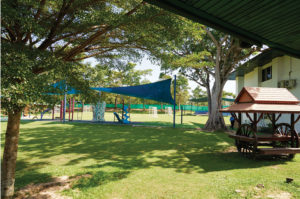 Of course, academics remain a priority, and St Andrews maintains a strong tradition of top academic results and sending students to some of the top universities across the globe. As one walks around the school, there is the feeling that you are in a true international school, with students from a wide variety of backgrounds. With students from over 40 nationalities and highly qualified teachers who have worked around the world, the school truly is a diverse community. St. Andrews is a fully authorised IB PYP school that offers the Primary Years Programme (PYP) from the International Baccalaureate (IB), integrated with the British National Curriculum from Nursery to Year 11, followed by an IB programme in Year 12 and 13. The fact that they are the only PYP school in the region is not their only unique feature; they are also unique for offering an accredited Dutch Stream for families from the Netherlands. The IB programme sits well with the school's holistic approach, something that Mr. Grayhurst hopes to develop through expanding the school's already extensive extra-curricular programme and incorporating the Duke of Edinburgh Awards scheme more fully into the school curriculumng the school again in the near future.
Only 35 minutes from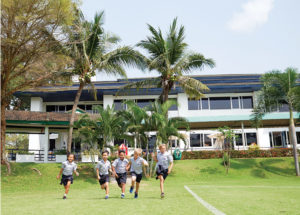 Pattaya, St. Andrews International School, Green Valley feels like it could be a world away. Students are given the space, both physical and within the curriculum, to explore and develop. This will be key as the school seeks to stand out among an increasingly competitive market where parents are, quite rightly, demanding more for their children and larger schools are seeking to establish themselves in the region. At the British Learning Centre, we have many students who are seeking intensive English lessons to prepare themselves for international school entry assessments; I was encouraged to hear that St. Andrews promotes an inclusive admissions policy and supports students for whom English is an additional language through new and engaging programmes of study. I for one am excited to see how the school will develop over the coming years and I very much look forward to visiti