A Warm Welcome awaits you at Bruno's

For those of us who have lived in Pattaya for some time, Anders, or Andy, as he is known to many, is a recognised host on the city's dining scene. Previously at News Restaurants, his TV commercial always started with a resounding "Welcome", and he was well known for being able to make a great Margarita.
Now Anders and his team at Thappraya Road will ensure you have a warm welcome and fantastic food when you step inside Bruno's. The recently reopened restaurant and wine bar is already making quite a name for itself with tremendous value 2-for-1 evenings and Sunday buffets, but we were there to discover the full evening experience.
So off to a great start our amuse bouche was a delicious serving of creamy potato salad – someone must have said this is my favourite guilty pleasure! Then we tried a Margarita – just to check if it was still as good and yes, I can confirm that the mixologist at Bruno's makes a great Margarita. We also tried a beautifully refreshing "Purple Rain" one of the signature cocktails containing vodka, lime and berries – highly recommended if like me, you prefer your cocktails not sweet but zesty and well blended.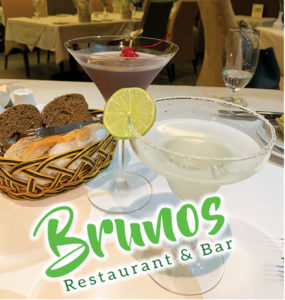 The ambience inside Bruno's is excellent. Glass partitioned it has a cocktail bar in front of the perfectly lit dining area. Then, alongside an impressive wine cellar there is a separate dining room ideal for parties. Anders told me they had hosted a large gathering the night before where guests decided to select and share 2 of everything on the menu!
Unobtrusive staff stay back at the edge of the room but diligently come to your table as soon as they see that service is required. This is an often overlooked skill but bad staff who hover, snatch plates away or leave diners unattended too long can be a serious setback to a fine dining experience. At Bruon's, Anders and his team have the balance exactly right.
So what about the food? Well as appetisers we decided to try the Beef Carpaccio and Lobster Bisque. The carpaccio was a pleasingly generous portion and the soup thick and creamy containing plenty of lobster meat. We then shared a prawn, avocado and macadamia salad and although disappointed that there wasn't much evidence of macadamia, were pleased by the delicious inclusion of tender pieces of peach.
For the main event, we decided on Duck with an orange sauce and Pork Cordon Blue. The duck was succulent, had no fat,was perfectly pink in the middle and cut to just the right thickness. The pork served with carrot batons, chips and mange tout, and accompanied by a dark fruity gravy.

Just before dessert, we saw Anders doing the rounds of the tables checking that all was well and getting comments and opinions from his diners. He insisted we try the desserts and so we opted for a beautifully presented creme brulee with mandarin and strawberry segments and a fresh, tangy raspberry sorbet with vanilla ice cream.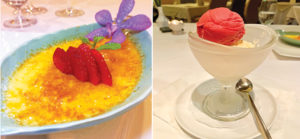 If you've yet to visit Bruno's its on one of Pattaya's very best dining streets Thappraya road, Jomtien and there is plenty of parking at the side.