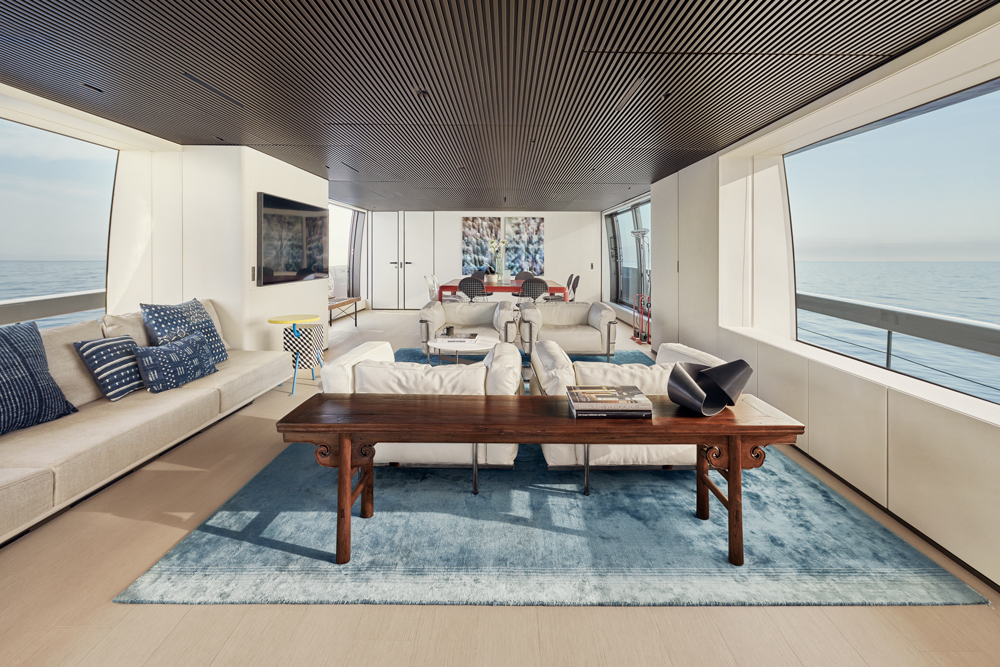 Exterior designer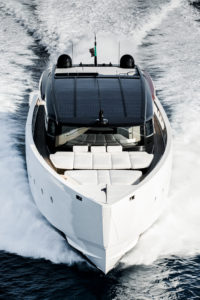 Bernardo Zuccon says the knife-like profile of the SP110 was inspired by the great white shark.
Sanlorenzo's quest for innovation shows no signs of slowing down with the SP110, its first open coupè and fastest yacht to date. In fact, the two-deck design is so far removed from the
SL, SD and SX flybridge yacht ranges that it's reaching a new sector of owners.Sanlorenzo Asia, represented by Simpson Marine, secured a sale soon after the model's world premiere at the Cannes Yachting Festival.
In an era with increasing focus on fuel emissions and a huge push for greener propulsion and operational systems, even Sanlorenzo Chairman Massimo Perotti admits that the high-speed SP110 may be a more niche offering than more voluminous models from the well-
established SL, SD and SX series.But that's where the 'Smart' in Smart Performance comes in. Sure,the SP110 can seriously shift when it needs to, but Sanlorenzo says its performance is matched by impressive efficiency, the driving force behind the boat's fractional propulsion system.
To improve efficiency at slower speeds, the yacht can use just one engine or only the two outer engines,paired with a steering waterjet as opposed to the central thruster. "Personally, I think the best performance in terms of economy is at 10 knots,with the two side engines running at about 800-900 rpm and consumption at about 110-112 litres per hour," Antonelli says.
Furthermore, the SP110 incorporates a solar-electric energy system to help power onboard systems.
While Antonelli is focused on the Smart Performance the exterior and interior designers, Bernardo Zuccon and Piero Lissoni admit it was a "complex task" finding the balance
between the SP110's dynamic performance and the need for elegant,comfortable outdoor and indoor spaces."While respecting the stylistic features that historically characterise this type of boat, such as the aerodynamic and extremely organic surfaces, with Tilli Antonelli we arrived at a compromise: a dialogue between dynamism and liveability not normally perceived
on boats of this size," said Zuccon.
Outdoor social areas include the foredeck and a five-person sunbathing area with an aft terrace, so offering space for outdoor furniture, water toys and whatever else an owner might wish to use it for. Whether you're standing on the aft terrace, swim platform or even the dock, you have a clear view through to both the lower lounge and the main deck above. Both decks are connected by what Lissoni describes as a "hyper-technological staircase" to starboard and both
are far more relaxing, comfortable and welcoming than the minimalist
exterior might suggest.
Antonelli is full of praise for the connectivity of the outdoor and indoor areas. "The SP110 is designed to be social," he says. "When one guest is reading a magazine on the main deck, another is watching a movie in the lower lounge and others are sunbathing or playing on
the aft deck, they can all communicate. They're in separate areas, but they're all connected."
Inside, Lissoni themes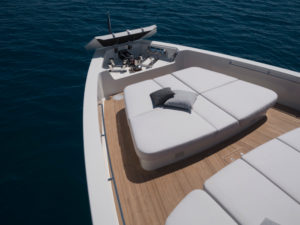 include long sight lines, big windows, large openings and clear deck spaces that can be dressed by owners how they wish. In essence, the main deck is designed to start with an open saloon,while forward is a dining area flanked by huge sliding doors on both
sides for a pleasant cross breeze and beautiful sea views.Like the main saloon, the lower lounge can be dressed and laid out to the owner's taste.
The SP110 is the first of what will genuinely be a new generation of yachts.
For more information go to:
www.simpsonmarine.com/manufacturer/sanlorenzo