Jana the face of Pattaya's new Rotary Club.
Jana Keightley and her husband Tom Keightley are already very well known in Pattaya. They have long been supporters of Rotary International
a global network of more than 1.4 million people whose aim is to unite and take action to create lasting change. Jana firmly believes in Rotary's motto "Solving real problems takes real commitment and vision" and she served as a secretary to the Jomtien club for over 8 years
Extremely active in all kinds of charity work and fundraising events, Jana loves helping out people in trouble, cares deeply about animals especially the soi dogs of Pattaya and has great concern for the environment. Often involved in beach cleaning events she points out that it is important they take place during low tide when much of the dreadful plastics and unsightly rubbish can be found washed up on the shore.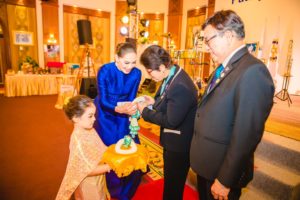 Jana is also known to many because of Janat Sarie Boutiques the yellow shop opposite Big C Extra, Pattaya Klang that has a fabulous selection of one-of-a-kind gowns for all occasions. Jana personally sources the fabrics for her customers, takes their measurements for a bespoke fit and designs individual creations so no two customers have the same outfit! Certainly, her expertise was shown by the stunning shade of Rotary Blue dress that she wore at the recent event to launch the new club.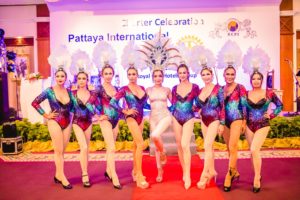 Everyone attending the event remarked on how well it was run with an amazing buffet expertly laid on by Royal Cliff. Putting her own stamp on the entertainment Jana chose dancers from all over Thailand. They ranged from the traditional to amazingly acrobatic hip hop dancers and even exotic cabaret performers. To the delight of many the presentations and raffle prize announcements were kept brief to allow more time for the guests to take their turn dancing to Paul Jackson's band.
Guests included some members of other Rotary clubs lending Jana their support as well as the brand new members of The Rotary Club of Pattaya International. It was delightful to see that these new members were of all ages, genders, and nationalities all looking forward to joining Jana in the aim of helping others whilst having good fun!
If you would like to join this exciting new Rotary club please contact Facebook Rotary Club Of Pattaya International@RCPIThailand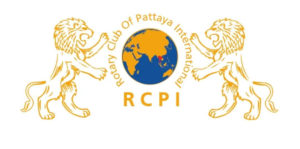 Telephone 065 490 5153 Email [email protected]