Playa Bistro & Lounge the newest hot spot on Pattaya Beach is also the coolest!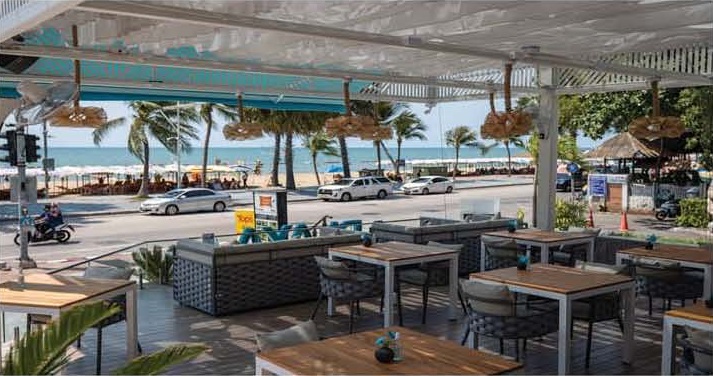 It takes real courage and determination to open a new business in Pattaya, especially at this time. To succeed in the current climate any new venture must have a real point of difference, work well on several levels and appeal to a broad spectrum of people with its quality and service. Playa Bistro & Lounge ticks all these boxes.
First of all, it looks great – every detail from the smart uniforms of its staff to the beautifully photographed and presented menu has been carefully considered.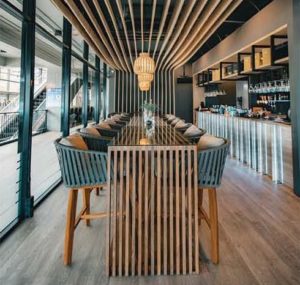 You might wish to take advantage of the bistro's enviable position right on Pattaya beach (near Soi 1) and the Teddy Bear Museum. Or go inside for the cool air-conditioned seating and tempting cocktail bar.
Talking of tempting, the food here is delicious! There is something to appeal to everyone with an enormous menu of mouth-watering dishes carefully considered and created by a chef who has a real vested interest in the success of this great new Pattaya restaurant.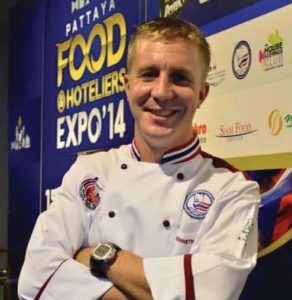 Playa's Belgium chef Kenneth Goessens studied hotel management in the picturesque city of Bruges and came to Thailand 12 years ago. He gained valuable insight into the requirements of Pattaya's clientele by working at amongst others: The Hard Rock Hotel and La Ferme.
Now with this new venture (he is a part-owner of Playa) he has even more of a say in what was goes in the varied and mouth-watering menu. All Food and Beveridge decisions are his and include his favourite Playa Tapas plate and Playa Salad.
His signature dish is a slowly cooked 1/2 roast chicken with Belgium herbs and of course, he offers Belgium pancakes and waffles. The Thai menu is also inventive with a Somtan Volcano that is served with dry ice for an amazing effect.
Kenneth had worked with Lovely before and knew she was the person he wanted to be his manager. She is really happy with the way her life has been evolving for the last 7 years since coming to Thailand and moving from Koh Chang to Pattaya. Thrilled to be part of such an attractive and lively team that includes AGM Kitty, Lovely says their weekly meetings and the way they all pull together to achieve their targets makes working here a pleasure! Besides her favourite colour is Turquoise!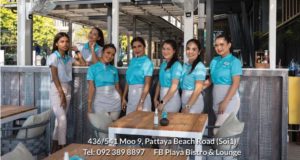 436/5 Moo 9, Pattaya Beac 'Tel: 092 389 8897 FB Playa Bistro