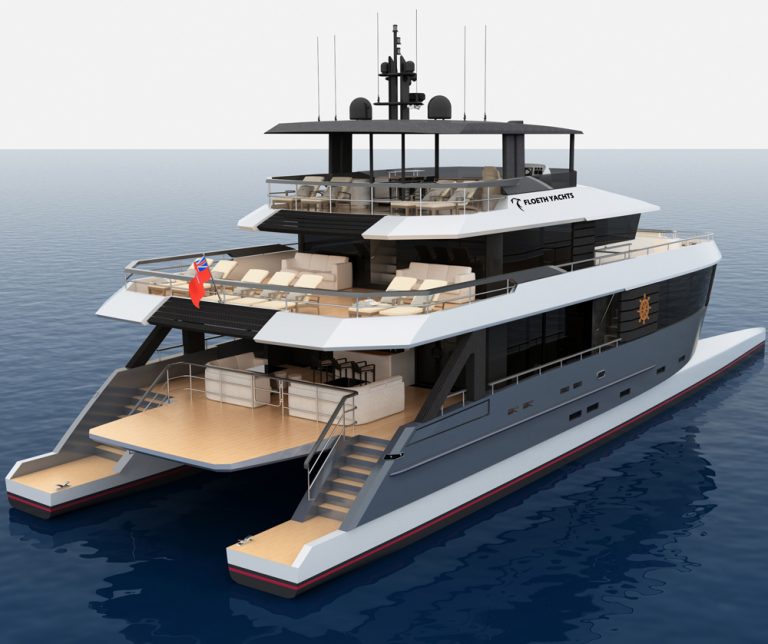 The Floeth shipyard in Rayong is set to deliver a 110ft wave-piercing, tri-deck powercat in the second half of this year.
Floeth Yachts is preparing to launch its biggest-ever build with the 110ft Independence set to emerge from the Rayong shipyard as one of the world's biggest wave-piercing catamarans.
Fitted with a diesel-electric hybrid propulsion system along with solar panels for non-propulsion operations, the tri-deck powercat sold to a Thailand-based client is under construction at Floeth's 11,200sqm seaside shipyard beside the Mataphut Industrial Park, southeast of Pattaya in the Gulf of Thailand.
Founded by Michael Floeth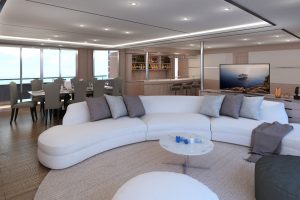 in 2008, the family-owned operation specialises in the production of sportfishing boats and custom catamarans. These include a 72ft wave-piercing catamaran that can run at 20-plus knots on a full load – it's certified for 110 people – despite only being powered by two 380hp engines.
The shipyard also specialises in the use of PVC vacuum resin infusion, which guarantees the even flow of resin to the hull, particularly beneficial in large, complicated moulds. Floeth says the process delivers a yacht up to 25 per cent stronger and 30 per cent lighter than conventional fibreglass builds. Floeth renewed its activity in the private and luxury catamaran market after the Covid-19 pandemic took its toll on many boat building companies in Southeast Asia. About 80 per cent of the Rayong builder's revenue was tied to the charter business, so the company was forced to look for other business opportunities.
For Independence, special attention was given to fuel efficiency, seaworthiness and ride comfort in a superyacht capable of long-distance voyages. With two electric engines, Independence is predicted to have a minimum cruising speed of 16 knots, which is unique for an electrically powered boat of this size, according to Floeth.
The boat will have generators so that every 10-12 hours, it can either stop overnight while the batteries recharge, or it can switch over to the two diesel-powered engines, whose main purpose will be for docking or extended cruising.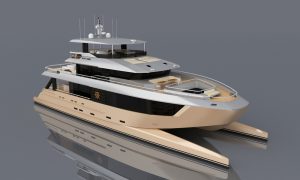 The yacht has a 45ft beam, with all guest accommodation on the main and upper decks, and the galley and crew quarters in the hulls. The interior features a formal dining area and bar to port, and two separate lounges plus an enormous, full-beam master cabin, with a forward-facing bed and lounge to starboard. Large glass doors lead to a covered private foredeck with a hot tub.
The sundeck has a hardtop and features the upper helm, a bar and sun loungers. The yacht's design has also evolved to include a huge, two-part hydraulic platform, with each half able to independently be lowered or raised to launch and retrieve jet skis, tenders, sailing dinghies and other toys.
The upper deck has two large guest cabins and ensuite bathrooms. The aft deck has a large hot tub, bar and space for several sun loungers, while forward is the main pilothouse and an open foredeck with a C-shaped sofa. Floeth is also building a line of 65ft catamarans featuring electric propulsion.
By Bill Gladstone This article is republished by kind
www.floethyachts.com permission of
www.amdesign.co.th