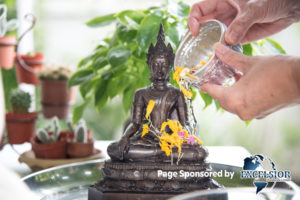 At time of going to press it was confirmed that this year's Songkran holiday will take place from April 10th to April 15th but that no water splashing is to be allowed.The ban on water splashing is being put in place to help prevent the spread of COVID-19.
A spokesperson from the (CCSA) Centre for Covid-19 Situation Administration, Dr Taweesin Visanuyothin advised that water splashing is to be prohibited as well as foam parties or any other wet events that might involve close contact with large numbers of people. However, traditional Songkran celebrations and religious ceremonies can still take place provided social distancing is in place plus there will be no restrictions on inter provincial travel.
Nowadays, nearly everyone knows that the famous Songkran Festival heralds in the Thai New Year. It is also an annual holiday and according to Thai traditions a time when the people of Thailand return to their hometowns to celebrate and make merit. Making merit might include the presenting of offerings to monks, pouring water on senior Buddhist monks and also the pouring of scented water on elders in a sacred ritual to pay gratitude and give a sign of respect. Thai people consider Songkran a time to spend with their families and elders.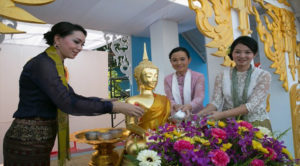 Some people, including foreigners might not know that as well as the splashing of water another Songkran tradition is that of carrying sand into the temple or monastery. It is believed to bring happiness, good health, prosperity and wealth. Also it is believed that bringing sand back to the temple replaces all of the sand that has been carried out from temple grounds when sticking to visitors' feet. It is not considered good to take anything away from a Thai temple, even unwillingly.
The Songkran Festival is a tradition that has been passed down for a long time along with plenty of its interesting history. The essence of the Songkran Festival is that the family is all together and spends time together.
Wishing you all happiness and enjoyment for this coming Songkran.
Sawadee pee mai!