A Superfood from nature: Red Palm Cooking Oil
By Songpone Siriwanlert
Previously there was a certain amount of "fake news" from the US about coconut oil. It was misleading and said that coconut oil contained unsaturated or trans-fat with high cholesterol which might have a high risk of causing heart disease. Then soybean oil was claimed as trans-fat free and promoted in the U.S. market for a long time. Later on, it was found that coconut oil was the best at the preventive measure of heart disease, cleaning out LDL or bad cholesterol from the blood vessels. Soybean oil on the contrary was found to contain unsaturated fat, which contradicted the old market's belief. In Thailand lard used to be popular in the past but in the same way, Thais turned from this to the use of vegetable cooking oil especially soybean and sunflower oil.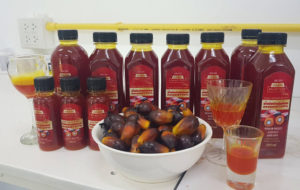 Recently there has been a discovery of a new kind of cooking oil that seems to be better than coconut or olive oil in terms of its nutritional value. It is red palm oil or natural palmoteen oil which originated because of the crisis on the low market price of palm fruit. The community enterprise of a palm oil plantation in Krabi province got the idea to create some value-added palm oil products and red palm oil is their leading one. With a simple production process that is natural and non-chemical, red palm oil is rancidity resistant having saturated and high antioxidant content.
As its melting point is as low as 24C or 75F, the production process is very simple such as crushing the ripe palm fruit and boiling it at a low temperature until the output is a red-brown essence. This is virgin red palm oil which is rich in phytonutrients, antioxidants, natural carotenes (pro-vitamin A), vitamin E, co-enzyme Q10, Omega-3, and Omega-6 fatty acids. All are beneficial for health lowering cholesterol levels, protecting against heart attacks, strokes, cancer as well as maintaining proper blood pressure, and improve blood circulation. In addition, it also helps nutrient absorption and blood sugar control improvement. The most important is anti-aging, slowing down the premature aging process as well as mental deterioration (Alzheimer), asthma, and more. The current market price is around Bht.300 for a 500 ml. bottle which is in line with coconut oil.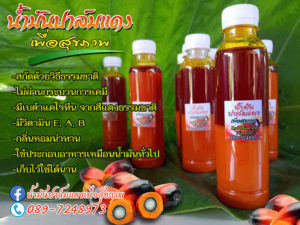 On December 15-16, 2020, there was The Asia Palm Oil Conference 2020 held at the International Conference Center in Hatyai, Songkla Thailand in order to propagate the knowledge of Red Palm Oil to the Thai and Asian markets.