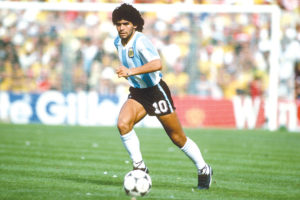 News has just come in at the time of writing of the passing of Diego Maradona, who died of a heart attack at the age of sixty at his home in Buenos Aires. He passed on the anniversary of the death of another footballing genius, George Best and like George, if you ever watched him play, you knew that you were seeing something of rare beauty.
Diego Maradona was born the fifth of eight children in Buenos Aires in 1960. The family were so poor they had neither electricity or running water and the young Diego would do anything to earn a little money for the family. He was already showing phenomenal ability at a young age and when he went for his first trial to the local youth team they thought he must be older than the eight years he claimed to be able to show the skills he had but was malnourished. When a check of his ID card convinced them, they sent him to a doctor who put him on a course of pills and injections to build him up.
From a young age, Diego was feted and indulged because of his talent. Almost immediately he became a phenomenon, entertaining the crowd at half-time in league games by performing tricks with the ball. By the age of 11 he had begun to be mentioned in the national press. Expectation and a familiarity with pharmaceutical enhancement were there from the start.
So, too, was a tendency to indulge Maradona. It soon became apparent that the rules didn't apply to him. His headmaster gave him a pass grade for exams he missed. He was a terrible loser, forever finding others to blame. He was immature and irresponsible, and laboured constantly under the demands of fans, the media and his club. After moving to Boca Juniors in 1981, the club's financial problems meant he had to play in an endless string of money-spinning friendlies. He had more injections to help deal with the strain. The pressure became intolerable.
He moved to Barcelona in the early eighties and spent a turbulent two seasons there, being plagued by injuries and disagreements with the management and board. Still, in those two seasons, he scored 38 goals in 58 matches before being transferred to Napoli for another world record fee.
What he did at Napoli was incredible. They had the most successful period in their history, winning two league titles and adding further success in Europe. I remember reading about how he played during that period in an article from a journalist living in the city at the time. He described the whole city as being under his spell and when you saw him play it was like "voodoo football". No one had ever seen the like of it before.
His performances in 1986 remain the greatest by any individual at a World Cup. He didn't just score goals, he didn't just score brilliant goals, He dragged the whole team up to a level that they thought could not be reached. His performance against England, the "hand of God" followed by one of the greatest goals ever scored, was typical of him.
He was the greatest player I ever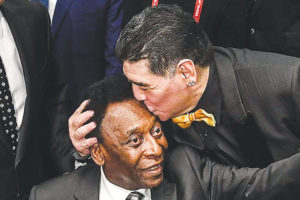 saw. No matter what problems he had off the pitch, on it, he was beautiful. Rest in Peace, Diego Maradona.
"He leaves us but does not leave, because Diego is eternal."
Lionel Messi, after his death.
"Diego was capable of things no one else could match. The things I could do with a football, he could do with an orange."
Michel Platini, former French midfielder, on Maradona's ball control.
"I lost a great friend and the world lost a legend. One day, I hope we can play ball together in the sky."
Pele, after his death.
"To see the ball, to run after it, makes me the happiest man in the world."
Diego Maradona.