Mitr Chaibancha (Born Phetchaburi 1934- Died Jomtien1970)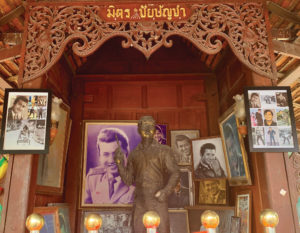 Originally called Pichet Pumhem, Mitr Chaibancha was born in Phetchaburi although at the age of 8 he moved to Bangkok after his parents separated. He was enrolled in a Thai boxing school where he became their lightweight boxing champion and after college went on to the Royal Thai Air Force aviation school. There he trained as a pilot and after graduating worked as a flight instructor at Don Muang Royal Thai Air Force Base.
Some friends showed his photograph to a journalist:who then introduced him to Surat Pukkawet,the editor of a popular movie magazine. This led to Pichet appearing in his first film "Chart Sua" (Tiger Instinct) and changing his name to Mitr Chaibancha.Between 1956 and 1970 he appeared in hundreds of films and at the height of his career starred in nearly 50% of all the movies made by the Thai film industry.
In 1959 he married Jaruwan and they had a son, Yuthana, although the marriage ended in a divorce. Then in 1961 Mitr starred in "Banthuk Rak Pimchawee" (Love Diary of Pimchawee) with Petchara Chaowarat which began the most celebrated hero-heroine partnership in Thai cinematic history, the Mitr-Petchara duo making about 165 films together.
The first film Mitr produced himself was "Insee Thong"(Golden Eagle)featuring the return of his popular,masked crime-fighter character: :"Insee Daeng" (Red Eagle). Unfortunately, on October 8, the last day of shooting in Jomtien, the script called for Mitr to fly off hanging from a helicopter. As the camera rolled, he leapt up to grab the rope ladder but only managed to reach the lowest rung. The helicopter pilot wasn't aware of this and continued to fly higher and higher, with Mitr finally losing his grip and falling to the ground. The accident was all caught on film and was actually left in the final theatrical release. The fatal fall has since been removed from DVD versions of the film, with Mitr simply flying off into the distance with some on screen text paying tribute to the star.
Mitr's death was ruled a tragic accident and on the day of his funeral the streets leading to the temple where he was cremated were packed, with tens of thousands of fans. Fifty years on many of his films have been restored by Thai Film Archive team and there is a memorial shrine dedicated to him lined with photographs and memorabilia, on 2nd road Jomtien, behind The Jomtien Palm Beach Hotel.