By Gloria Jones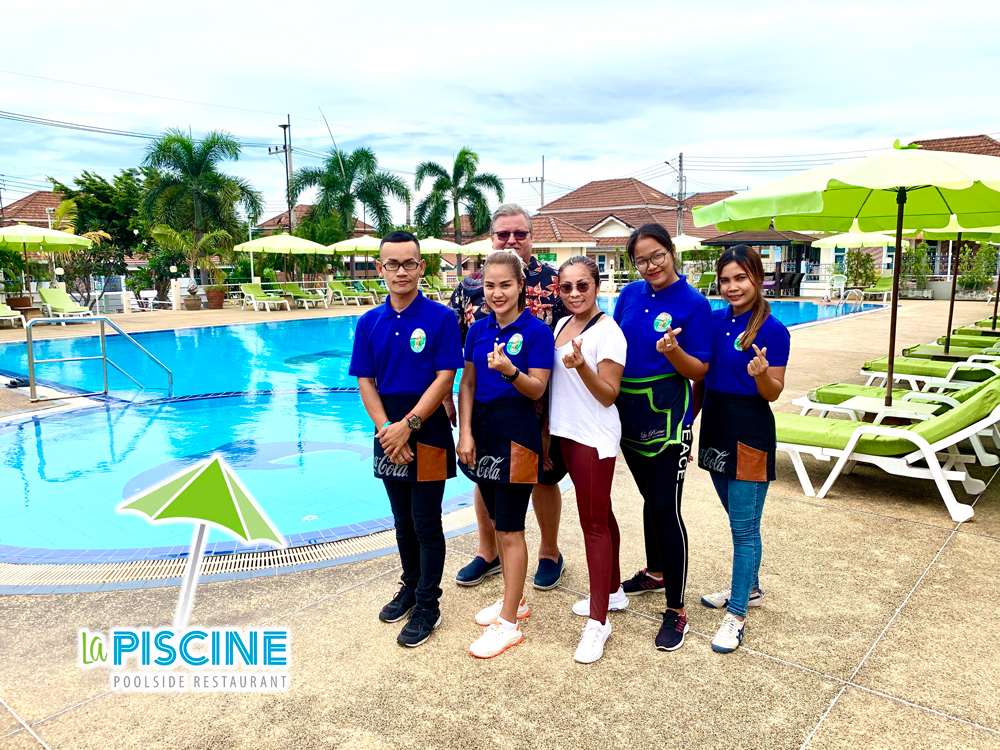 What amazes me when I look at La Piscine is what a great idea this is and why more people haven't thought about it? Inside Chokchai Garden Home 4, Soi Khao Noi what you have is a beautiful "holiday resort" right in the heart of the village. With colourful, comfortable sun loungers and umbrellas around a huge saltwater swimming pool its easy to feel as though you are on a permanent holiday. Add to that some music, a great restaurant, and innovative management and you really are on to a winner – even in these challenging times.
The place is spotless and charmingly steeped in plenty of great photo opportunity backdrops. The staff well trained and extremely friendly and the food from the International restaurant has to be tried to be believed.

My good friend Barry Upton suggested that we review this place and anyone who follows our monthly programme on the TMN channel will know that we enjoy nothing more than finding new locations when we are out and about filming. Barry told me the food was good and for once he wasn't kidding (haha).
La Piscine's diminutive chef already has a loyal following from her earlier posting at Retox Outback and is doing great things in the kitchen here, whipping up European, Thai food pizzas, salads, and pasta in no time at all. This is just as well because between 1-3 pm the place is packed and has a great lunchtime following. If I lived in Chockchai Garden I'd be a permanent fixture at this place and in fact, I am told that many of the residents come here and also phone in their orders for collection as well.
There is an unbelievably good 99 baht breakfast deal at the moment – check out their Facebook page and daily specials which are even better value than their flyers would suggest as the portions are huge! Talking of huge the monster hot dog has already become a firm favourite and is a Monday special. The Giant hot dog was developed in conjunction with Prime Foods and therefore is exclusive to La Piscine. I can vouch for the fact that it is delicious and extremely filling.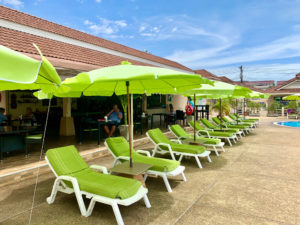 The extremely friendly owner Heikki originally hails from Finland – speaks excellent English and has also spent 3 years in Italy. Therefore he can add, excellent Italian to his linguistic skills plus the time he spent living there means that he has exacting standards when it comes to the Italian dishes. I can honestly say that the lasagne I tried here was the best I've had since I've been in Thailand – and I am half Italian after all.

Sauces are also a real treat here and with the Grilled Chicken served as a special on Thursdays the lemon sauce is making my mouth water right now as I am writing just with the memory of having tried it.
There are amazing cocktails, desserts, and Ice-creams to try as well with vanilla, strawberry, and chocolate being sold by the scoop. This is obviously great for kids as in fact is the whole place. You can book children's swimming lessons and even kids' parties. Then for the mums and dads, Yoga at 6 pm, every Monday, Wednesday, and Friday and a selection of various poolside massage from 10 are to 5 pm.
La Piscine is at
78/78 M.5 Chockchai Garden Home 4, Soi Khao Noi, Pattaya
(Get a ticket from the barrier and remember to get it stamped at the restaurant before you leave).
Telephone 065 640 9179
Website https://www.lapiscinepattaya.com/
Facebook La Piscine The Swimmingpool @lapiscinepattaya