Renovations make the Sugar Hut an even better place to visit, to relax and unwind.
                                                                   By Gloria Jones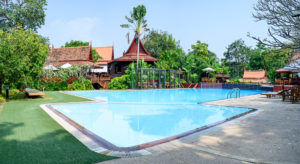 The last few months have seen unprecedented times here in Pattaya with businesses closing, staff being laid off and long queues of unemployed on the streets waiting for donations of food and water.
As we look forward to an unfurling of all the rules and regulations, it's a good time to visit some of our favourite establishments that have put the enforced lockdown to good use. Sugar Hut for example, has kept its staff employed to work on renovations and improvements whilst its guests have been forced to stay away. After all, this picturesque resort has been in existence for some 40 years now and seen many changes during that time in Pattaya's evolution.
Anyone who has visited Sugar Hut knows it is an amazing oasis of calm tucked away just off Thappraya Road, but what they might not realise is just how much work it takes to maintain all its natural looking beauty. For example,the paths around the resort are surrounded by lush vegetation. When using them to walk through to your villa, you might imagine yourself deep in Thai countryside. However, you don't want to be handed a machete at reception in order to cut a swathe through the undergrowth, "Stanley and Livingstone style". Therefore the gardeners ensure that plants either side of the paths are kept to just the right height and allow for sufficient clearance as you walk past.
Sugar Hut's owner Dr Sunya Viravaidya has an exacting eye for detail and an interesting mix of Thai and Scottish heritage. This means that he is able to appreciate Thai traditions whilst understanding what visitors from the West may need to make their stay enjoyable.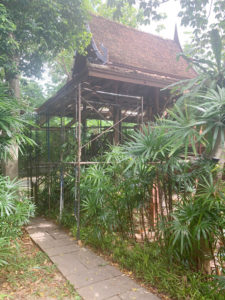 An interesting case of this was when he asked for additional stones to be added underneath the villas. These being on stilts,has meant that there are often cables underneath to connect the power. To an unknowing eye, such a cable could look like a snake. I for one am extremely grateful he considers the more urban of us who could be disturbed by such a sight and so buries the offending cables under more stones!
Then there is always the continual upkeep of the 28 villas to attend to.Yes using natural Thai building materials and traditional methods does give authenticity and originality to the resort but these must constantly be checked and where necessary repaired by the team of carpenters on hand.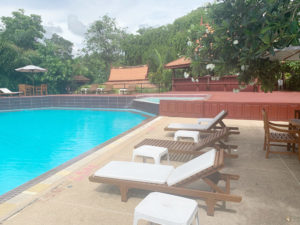 Likewise inside, there are constant improvements being made. For example, the beds have locally made mattresses, filled with the husks of coconuts but with very soft toppers added to ensure the best, natural support for a great night's sleep. These gorgeous double beds have wooden frame surrounds which the Dr has instructed to be given clearance so as not to cause any accidental damage to an unlucky guest's shin when climbing into bed.
Also during the last few months, teak flooring in the restaurant areas has been renewed and repolished. Sun bleached wood stained and painted and tiles fitted around the three fabulous pools.
So whether you are coming for an overnight stay or just for brunch with use of the facilities, this certainly is the perfect place to relax and unwind after the trials of the last few months.