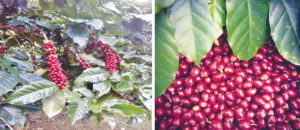 "The beginning of quality aroma and an ecological conservation system"
by Elle Inlom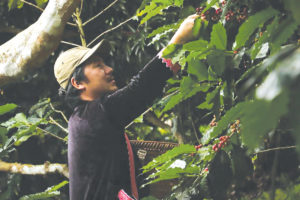 Shade-grown coffee is naturally grown underneath a canopy of trees and this is the beginning of quality coffee. A shade-grown plantation has a production system widely regarded as environmentally sustainable and enabling of biodiversity conservation.
Recently, I discussed and shared coffee experiences with two coffee specialists; One a coffee farmer and another a barista.
The first conversation with the farmer was about the most important benefit of shade-grown production, and we both had the same opinion, that it is "the sustainable coexistence between humans and nature" .
Mr.Chatree – an owner of a shade-grown coffee plantation located in "Khun Chang Kian" Chiangmai was inspired to become a coffee farmer because of his "Desire to live within the fertile forest and in good nature". Last year, he was very proud of being made an award-winning farmer, serving quality coffee to the market when his coffee won "Specialty coffee 2019" at a coffee festival. I asked him
What are the resources or elements of "Specialty of shade-grown coffee"?
To begin with, specialty coffee is planted within a quality environment which means that it is surrounded by biodiversities such as varieties of trees, at altitude, and within relative humidity. This is especially true of Arabica coffee which is grown with light intensity. Therefore, different environmental areas will relate to each coffee's unique taste.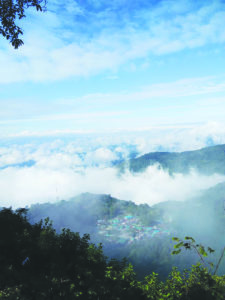 What is the difference between "Thai Shade-grown coffee vs that from other countries"?
The method of growing is similar but the process may be different depending on the environmental or other factors of each country.
Serving quality coffee.
My second conversation was with Mr.Peerapong – the owner of Peerapong coffee. His coffee shop concept is "happy and friendly coffee". He shared with me his opinions regarding his choice of quality coffee for brewing every single cup to his customers.
To him, quality coffee means "the carefulness of every process from planting to roasting" He chooses shade-grown coffee as he believes "that shade-grown coffee is the beginning of a quality cup". He selects the green beans from shade-grown coffee because he controls the roasting process himself, for his own unique creation.
Recommend area of shade-grown coffee in Thailand
The demand for shade-grown coffee in Thailand is increasing every year which why farmers have expanded the areas to plant in the North. In Chiangmai – Khun Chang Kian, Doi Saket. In Chiangrai – Mae Chan Tai, Doi Chang, and Mae Hong Son – Aoom Koi and Nan.
There are many processes that go into the making of a quality coffee or specialty grade. We are pleased to share our knowledge and passion with you.
If you would like more information on how to obtain shade-grown coffee from the North of Thailand please phone 0837 683606.