COMFORTED BY A TRIP TO HARLAN'S RESTAURANT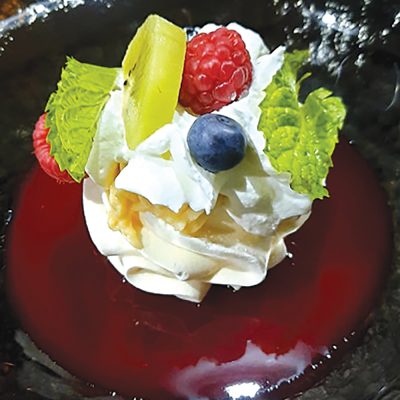 When you're on lockdown the anticipation of a great meal takes on even greater importance.
It is a wonderful chance to return to something resembling normality. The simple pleasure of getting dressed up and going out for an evening is a real tonic. Plus, it gives a much needed break to whoever has been designated the cook of the house in the lockdown months.
Yes, not having a good bottle of wine to accompany your food is a shame and at the time of writing this restriction still had not been lifted in Pattaya. However, the benefit is that your final bill will be considerably less than usual.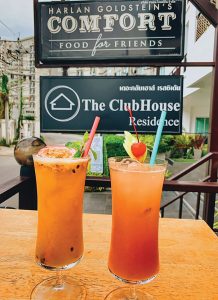 So during these trying times for us all, Harlan has come up with a new concept to tempt us back into his Cozy beach restaurant. It provides value which, in my opinion, cannot be beat. That is because you can now eat a 3 course meal at Comfort by Harlan from as little as 490 baht because the offer of appetizer and dessert for free (which we all loved during the Sunday brunch) is still being kept. Also the quality of the experience has not diminished and everything you try is simply a taste sensation!
He will delight you with a starter selection to really wake up your taste buds – we enjoyed wonderful Italian meatballs, Parma ham with melon and a crunchy, delightful Vietnamese spring roll with dipping sauce.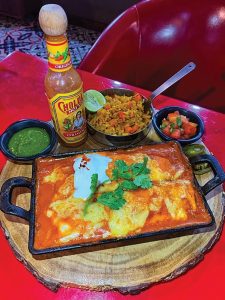 Taste buds truly awake I was torn between the Lamb on crack and the Chicken enchiladas
The lamb on crack being a slow cooked, braised lamb shank wrapped in a herb pancake with mushroom truffle goose liver and a butter pastry crust served with a green pea puree and roasted onions. As delicious as that sounded, smelt and looked, my greed got the better of me and I went for the chicken enchiladas. These were served with melted jack cheese ranchero sauce, Mexican rice 2 types of salsa lime and jalapenos- and they were amazing!
In fact, the portion was so generous I was almost wiped out. Almost couldn't eat dessert…..almost ….almost. I managed to find a little room after my flavorsome entree for crispy fresh meringue with vanilla custard, whipped cream, kiwi fruit and berries in a rich, raspberry sauce.
Feeling like I had really overdone it I have to say that the desserts were too good to miss.
After all I wasn't having wine so why not have an extra treat? – The delightful mocktails helping to accompany every course.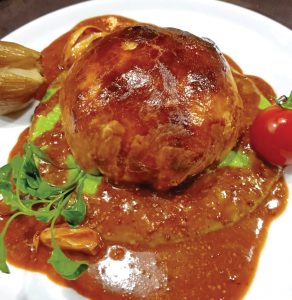 Here in Pattaya we've all known or heard of the "Brooklyn Bad Boy", "Harlan with a Harley" "The Scourge of the Facebook dining clubs" but what these strange times have brought us is a more reflective, calmer Harlan. One who is allowing his food to do the talking and one who begs his friends to reign him in if he gets too loud again.
Long may it continue – the food is great, the staff and service are great. Go treat yourself!
Closed on Tuesdays but otherwise open every day from 4pm – 9pm with a constantly changing menu so check out the Facebook page to be kept updated.