Retiring in Thailand – Searching for a Condo in Jomtien (Part 2)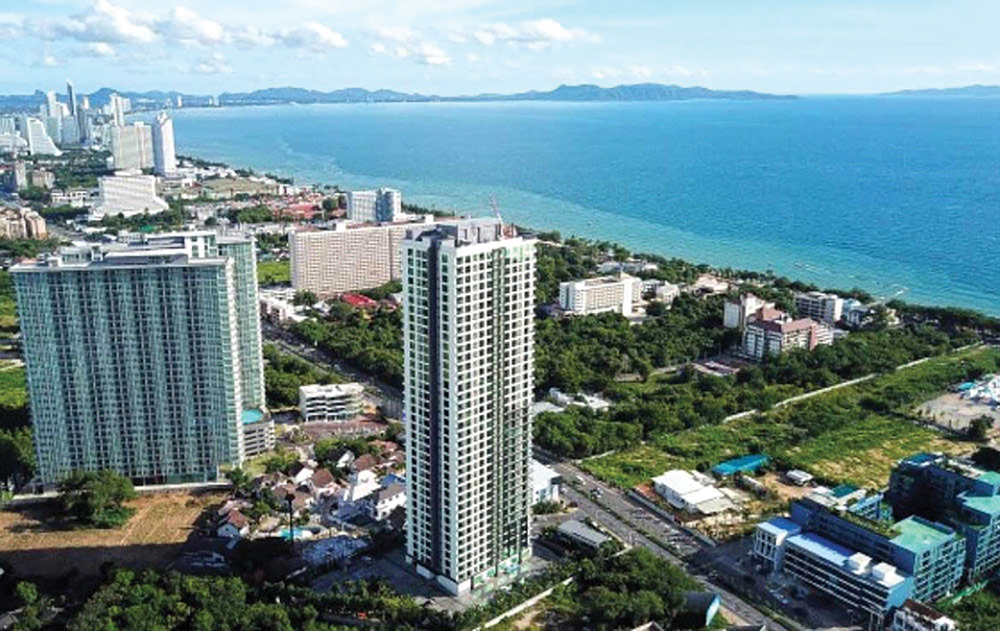 By Kim Waddoup
Following on from part 1 in our April magazine Kim continues to tell us about his experience of searching for a condo in Jomtien. If you missed it you can still read the article 
"Be prepared to expect the unexpected and keep an open mind as you will see a lot of alternatives that may deviate from your initial thoughts!"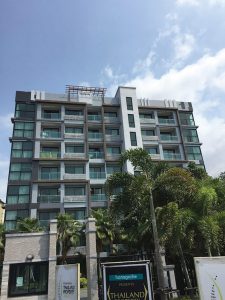 Now actually in Jomtien making viewings and sharing my experiences in the hope that they will assist other people in their quest to find a suitable home.
Whilst a majority of the complexes have been built towards the beach, Jomtien is expanding and many Condo Resorts have now been constructed between the Beach Road and Jomtien 2nd Road, One of these is the Dusit Grand Park.
Whilst you may feel that you are in the middle of nowhere this is a pleasant development. It's a series of low-rise buildings positioned around a large swimming pool feature. There is a nice relaxed 'resort' vibe to the development and it would suit couples. They offer a shuttle, so maybe not as isolated as it initially feels.
I was offered a very well furnished 1-bedroom unit on the 5th floor. I know that I want high floors but it's difficult in a low-rise complex! However, there are nets on the windows to keep out unwelcome insects. This 38 sq meter apartment was priced at a reasonable THB.12,000 monthly.(Probably some bargaining available).
⦁ Low rise, modern property
⦁ Next, I did some more exploring towards the south of Jomtien Beach and found the massive Paradise Condos. A functional, older building in a quiet but not isolated location. The advantages with the older buildings are that the units are generally larger with good sized balconies. There is a simple but good-sized pool and this could have been a possibility if I could have viewed some units here. As rentals appear to be handled by one person who was not in town, it was not possible to make any viewings but I would not exclude this property from your list of possibilities. Later, I was offered a 42 sq meter studio on the 42nd floor for THB.11,000 and also a 90 sq meter, 1 bedroom on the 28th floor for THB.16,000. Both look well furnished with great views.
⦁ Paradise Pool Area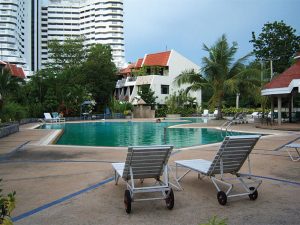 From the sublime to the ridiculous! Located close to the Paradise is the recently completed Cetus Tower, a glistening edifice standing at 49 floors. It is a beautiful property and one of the few where I felt that the management is really taking care and not just turning over to the owners and their Air B&B guests. There is a superb pool in front of the building worthy of any 5-star hotel. Another pool is located on the 5th floor with a state-of-the-art fitness room and a vast lounge and terrace to capture the sea breezes.
The 1-bedroom unit was located on the 33rd floor featuring panoramic windows with a spectacular view South-West to Na Jomtien. Perfectly furnished with a very clever sliding door if you want to close off the bedroom. Fully equipped and priced at THB.25,00 per month. This figure soon came down to 20,000 and I believe that ifI had wanted to proceed with this one I could have negotiated to 17,000.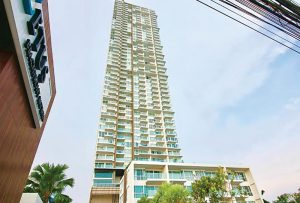 ⦁ Impressive new tower
⦁ Beautiful facilities
The next was also a recently completed tower, the new Dusit Grand. It is located on Jomtien 2nd Road and conveniently located to all amenities and not far to the beach. I viewed three 1-bedroom units all with an identical floor plan:.
13th floor @ THB.13,000, South View,
29th floor @ THB.15,000 South view
33rd floor @ THB 16,000 North View. This last unit had a really spectacular view over Pattaya and to the ocean beyond but was subject to a lot of direct sun. I was tempted as the unit is comfortable, modern and the view impressive. However the building did not give me a good feeling,people seemed to be coming and going without respecting it as their home. A good fitness studio and nice pool is nice but it is relatively small for the size of the building and potential number of residents.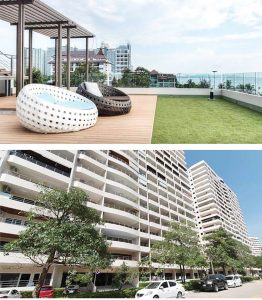 At this stage in my search I had a better understanding of the 'mechanics' and whilst tempted by the modern facilities of Cetus and Dusit Grand, I had still not found somewhere comfortable to call my future home!
The next day started with a visit to View Talay 3. Another of these Condominium monsters but with a completely different feel. Down a private road shared only with a luxury hotel, the buildings are very close to Cozy Beach. This is actually not in my preferred search area, however, as I mentioned, keeping an open mind is important when searching. So, I let my persevering agent lead me to Pratamnak Hill and down to this surprisingly quiet area.
View Talay 3B is a well-kept building with a sedate and peaceful aura. The studio was located on the 10th floor, 45 sq meters, large balcony, screen doors and classically furnished. Actually, very nice, comfortable and spacious, but was it too quiet? Enough for day 2, still so much to think about!
⦁ View Talay 3 A & B
I was becoming overwhelmed at the vast and increasing choice. However it was getting to the point where a decision had to be made! Keeping an open mind, having a tenacious agent and being able to understand all the variants, helped
Another alternative was excitedly offered. This was in the vast monolithic tower of Jomtien Plaza Condotel. Superb location right at the start of Jomtien Beach Road, this institution has surely seen a lot over the years and has many stories to tell. It is cavernous but has an institutional feel, initial impressions were not good. The building must be over 30 years old and it's not growing old gracefully. Whilst renovations are taking place, it has a long way to go. The studio that I viewed was a 52 sq meter studio with a spectacular sea view balcony on the 16th floor. If renovated it would be magnificent, however with a hotchpotch of furnishings including balcony fittings that look as though they have come from a GoGo Bar! Offered at THB.15,000 it was very overpriced for the poor condition that the building and the apartment were in. This was a quick exit

⦁ mpressive Jomtien Condotel
⦁ Jomtien Condotel
⦁ Uninterrupted sea view
The day saw me veering towards this the View Talay 3B offer but the industrious Oil and her assistant had yet another offer, next door in View Talay 3A! Maybe love at first sight but I felt that I could live comfortably here. A beautifully furnished 48 sq meter studio on the 14th floor. It has a large balcony with clear views towards the sea with the Heritage Pattaya luxury hotel as a neighbour.
The building has a large pool located next to the beach. I will have access to the beach so walks along the promenade to Jomtien will be my order of the day. It does appear to be a very quiet location and I am looking forward to this. The only slight drawback is the lack of transportation. However, it is possible to rent a Motorbike for just THB.2,500 per month. Search over, the owner has accepted my offer and I will be moving in.
So what have I learnt from this challenge?
⦁ Firstly remain open minded, don't say no and keep looking!
⦁ Find a good agent who is looking after your interests
⦁ The more you see the more you will find! Remain focused
⦁ There is leeway on the rental price. Always negotiate!
⦁ If you are looking for a 1-year rental you will enjoy better prices but you are locked in to a 1-year contract
⦁ Rely on your instincts and remember your initial thoughts as you first enter any complex
Once you find a property that you like and decide that you want to proceed you are expected to make a non-refundable deposit. To lock an apartment, you will have to pay the equivalent of 1 month's rent. Before moving in, you will generally be requested to pay an additional month's rent as a security deposit also in advance. So bear in mind that you may hand over the equivalent of 3 month's rent before you move in!
It is quite a daunting task and one that I took on not only for myself, but also with the view of being able to help others also considering a move to Jomtien. If you need any assistance or advice on looking to rent or buy a Condominium in Jomtien, please don't hesitate to write to me at [email protected] I would be pleased to assist and also to introduce you to my wonderful and tenacious agent, Oil.