A Few New Year's Angling Resolutions
                                                                    by Chris Millar 
It's the morning after New Year's Day in Thailand. It's hot, and believe it or not, tomorrow might be hotter and you're stuck to an air con. Cabin fever, anyone?
Given that you may be indoors longer than expected, and it's too hot to fish, it's time to make a list of New Year's resolutions …. Not just your standard goals of personal edification. How about a few suggestions geared toward you as a fisherman ? Let's call them angling aspirations, so here goes………..
Take the Kids Fishing
It doesn't have to be your child. It could a neighbor's. There's nothing more rewarding than taking a youngster out for a day on the water.
Besides, mentoring, it is a good way to spend quality time away from the stress of work and family. With the internet, iPhones and the array of social media, we've created an instant-gratification generation where patience is but a pipe dream. Time in the outdoors negates that trend. Nature has no clock.
Although catching fish is not the goal, the process of reading the water and evaluating the conditions provides a number of life lessons. Any venue that a parent or mentor can use to instill these skills is invaluable.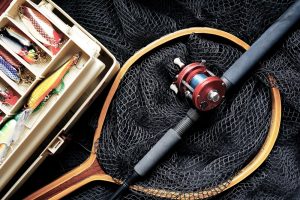 Fish More
Stating the obvious? Yes. But the reality is that most of us need to fish more. Quit making excuses and get out of the house and off the sofa or away from the computer and make time to get on the water. It doesn't need to be an elaborate trip. You don't even need to load up a boat. A few lunchtime casts at the local fishing park is better than staying home or stuck in a bar.
As honey-do lists mount and work responsibilities add up, your angling opportunities will dwindle, but don't wait for the perfect day to fish. Why? Because that day almost never comes.
I used to only fish when the temperatures or wind was right. Those days are rare. Fish when you can. You'll learn more and you'll be a lot happier.
Get Organized
Let's say you have a few minutes of free time, not enough time to fish, but enough to get something done. That's the perfect opportunity to organize your gear. You can sort through that tackle box that you stuffed full of all the old lines you tried to hide in a hurry while leaving the lake. Every little bit helps and could prevent a headache when you do finally have time to get out for a day on the water. The smoother that first trip of the year is, the better.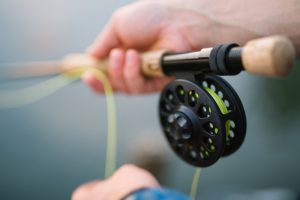 Practice Makes Perfect
We can all learn to cast farther and more accurately. It doesn't matter if you use spinning gear or a spinning rod. Regardless of the gear you use, it pays to put in the work in the off season. If you can't fish, you always find 10, 20 minutes a few days a week to cast in the park or open area.
You need to be more disciplined and stick to a practice plan.
Nobody can attempt all of these resolutions. We all have non-fishing responsibilities. Try one or two realistic goals. One or two is better than none.
Tight Lines and have a Happy New 2020 Year and some fantastic Fish