Decorating trends for 2020.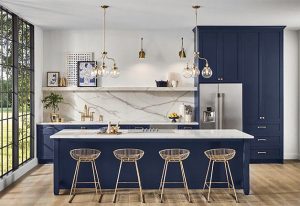 For 2020 designers continue to take more risks with colour with kitchens for example navy millwork is a key look that blends beautifully with marble and brass. Or a backsplash can often be the best place to add a pop of colour into a kitchen without having to do a full renovation. Using color in unexpected places like appliances and hoods can also freshen things up,
The main trend of fashion, is the design of a room in the style of minimalism. Experts strongly recommend we abandon unnecessary things and clutter. In the bedroom balance is important – arranging furniture and accessories in such a way that everything looks both ergonomic and beautiful. The bedroom is a place to sleep, and therefore it is important to make sure that even the smallest objects here will be pleasing to the eye and set up for rest.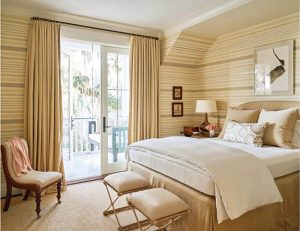 The photo above shows an increase in the desire for wallpaper instead of flat paint walls and a 'Champagne or Sand theme coming through to warm up the white on white or other neutral colours
Living Areas
The proposals that we will see in the
interiors during the year, seek a common goal: to give the house a comfortable look and be inspired by nature. Trends to decorate homes in materials such as wood and vegetation,will also be brightened with decoration, like silver and gold.
Continuing to bring "the outdoors in" is given a neater more organised look with plant stands and glass cases.

GRANDMILLENNIAL STYLE
"Grandmillenial style' is having its moment. The look is traditional design with a twist: blending elements of classic design like chinoiserie, scallops, natural fiber rugs, topiaries, and more, with a contemporary edge (think: modern art and clean lined furniture)." — Ariel Okin of Ariel Okin Interiors

Rattan and Wicker Furniture

"Rattan/wicker is having a resurgence," interior designer Nicole Fuller told Elle Decor. "It warmly reminds me of my childhood and has evolved in fresh and exciting ways whether in chairs, tables, or lighting. It is the perfect layer to balance modern and traditional style."
Freestanding bathtubs
A strong design trend for the bathroom in 2020 is that of the freestanding bathtub classic . An easy fix as they can match any bathroom decor with either a stone resin a modern look or something more classic like clawfoot or copper. They may also increase the value of your home retaining their value through the test of time