High Speed : Fast Train Coming!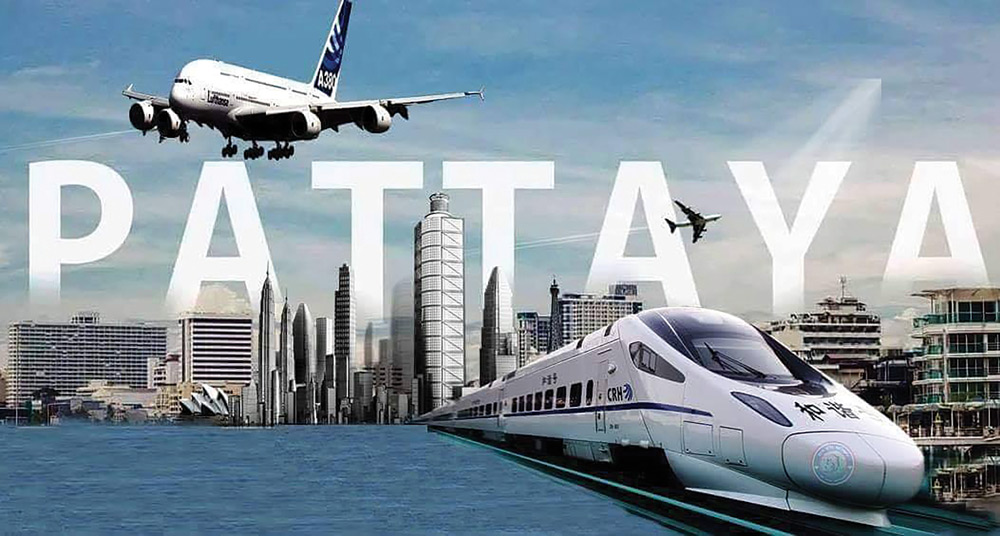 Contracts signed, details published: the high speed train connecting Don Muang, Suvarnabhum and U- Tapao Airports will be built! Pattaya will get a station!
Living in Pattaya – working in Bangkok! A life changing development!
Shopping in Bangkok, just to buy some shirts? Living in Pattaya and working in an office in Bangkok – with rentals and home prices up to 50% lower than in Bangkok?
That will be our new reality. For people living in London, Berlin and many other large cities this has been an option for many years. One of my longest friends bought a house in Falkensee and comutes into the city of Berlin every day via train.
The area he bought his house looks like a small village in the middle of nowhere….
but so close to good paid jobs in the city center.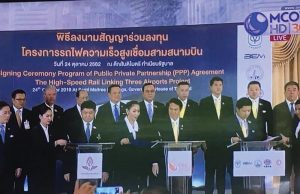 On the other hand, the "Ruhrgebiet" (Ruhr District or Area) with cities like Essen, Duisburg, Oberhausen and Bochum has a public transport network for decades but still too many people are depending on their own cars, spending time in traffic jams on the express ways.
There the urban development preceded the infrastructure and the whole public transport system seems to be a kludge (patchwork).
Between Bangkok and Rayong now the high speed train and highways will be built first for the residential development to follow – an approach with many advantages!
Lots of highways around Pattaya have been modified with more lanes, a new highway is ready to open soon: narrow minded people might think all this was done to get people from Bangkok faster to the weekend resorts on the east coast or to ease traffic on Sukkhumvit Road or Railway Road in Pattaya. This will be a nice side effect but the bigger picture is the Eastern Economic Corridor as the geographic center of ASEAN (associations of South Asian Nations) and what the Bangkok Post reported on 12.10.2019: (" Beach Resort banking on Neo Pattaya")
Pattaya City wants to transform itself from a beach destination to Neo Pattaya, a new international business center, in preparation for the Eastern Economic Corridor (EEC) scheme, in an attempt to diversify its economy away from tourism.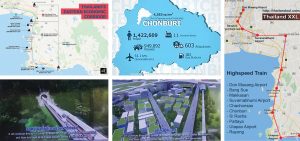 Tourism revenue dominates income for the city, which welcomed 14 million visitors last year, contributing 239 billion baht, or over 70% of total income for Pattaya."We plan to reduce our income from tourism to 60% of the total in five years, gaining revenue from other sectors benefiting from the EEC," said Pattaya mayor Sonthaya Khunpluem.
The proximity to Bangkok and faster commuting is not the only advantage of the high speed train and new high ways: Chonburi has several industrial estates (Amata City, Hemaraj, and many more), with the "Detroit of the East" being among the 10 largest locations in the world for car and automotive parts production, harboring the only deep sea port of Thailand -Laem Chabang. Map Ta Put in Rayong is the largest industrial estate in Thailand and world's eighth-largest petrochemical industrial hub.
And Pattaya is just in the middle of that with the best residential properties, best shopping opportunities, restaurants, cinemas, hospitals, several international schools- a grown up multi cultural area where East meets West!
We at Siam Properties have been effected by this since the beginning of 2019. Many private investors from Bangkok are coming to Pattaya for rental investments as condo prices in Bangkok went through the roof (land prices are already up in the sky!).
Furthermore professional investors have been showing up nearly on a weekly basis asking us about our prediction of the real estate market in the future: "we have this 5 Rai plot in Jomtien, what shall we do with it?", "would you recommend to invest into a housing or condo project"……
Pattaya is not any more the little town (or small village) my son Martin and I arrived on 14.July 1995!