Marco's Pasta by Numbers.
I'm sure you've noticed that Pattaya has more than its fair share of Italian restaurants. That  probably has something to do with the fact that nearly everyone loves pizza! Including the Thais – albeit the seafood options often smeared with tomato sauce! That means there is always a steady take-away business to be had to supplement the walk in diners.
But what about the 2nd staple Italian food – Pasta? Well pasta dishes in Pattaya can vary greatly from boring set options with shop bought dried pasta to far more flavoursome fresh, home made dishes as can be found at Marco's. 
In fact a speciality here is to give the customer a real made to order service that I like to call "Marco's Pasta by Numbers". The choice is yours, simply select your favourite pasta and then your preferred  sauce to create your own pasta dish combination, whatever you choose I am sure you won't be disappointed!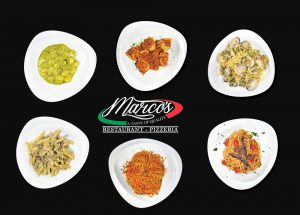 Look out for Marco's restaurant on Thappraya road but keep your eyes peeled. If approaching from Pattaya direction it's on the left after the Phratamnak traffic lights and the multi-coloured Grande Caribbean. If travelling up Thappraya road from the Hanuman statue you will need to take the first U Turn after the Thepprasit junction and the large LED screen.
Once you've found Marco's I'm sure it will be a regular location for lunch, dinner and especially the Pasta by Numbers!