Some places can look a bit dirty and dusty during the day but not Hemingways. Whether you're in for breakfast, lunch, dinner or an evening of fun, the place is well-kept and spotless. I particularly like the layout because although it is a large space, whether you're there as a group, family or couple there are plenty of booths and dining areas to choose from. The impressive central bar can comfortably seat up to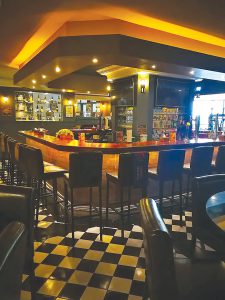 40 people and is an ideal spot if you are coming in by yourself for a pint and a read of the papers (of which there are a plentiful selection available daily). They've even taking care to add greenery and decent seating to the smoking area and in fact the seating is one of my favourite things about Hemingways. That and the friendly staff, a professional team headed by hard working manager Mark, who provide excellent service.
The food? Well there's a great choice with some dishes you would expect and some surprises like the duck with pancakes,and loaded nachos – really great bar snacks.
Also make sure to watch out for their daily specials such as the very popular Ploughman's lunch on Thursdays at 220 baht. On Tuesday a Pizza and a pint will set you back just 290 baht – tremendous value with 6 Pizza options to choose from. I'd recommend the Meat Feast as pictured. Or on Fridays when not only is there is a succulent Gammon meal available at 199 baht but Ladies can take full advantage of Buy one get one free drinks.In fact there are drinks to suit all budgets San Miguel and bottled beers at 90baht, house wine that comes as a decent measure in a decent glass for only 140 Bart and spirits that are available at a range of prices 60 for the house varieties to 150 baht for specialities like Grey Goose
If you want a comfortable place to enjoy all sporting action then Hemingways with it 14 screens and 9 boxes can cover all the matches you want. They can also cater for private parties with free local delivery and when The Pattaya Trader visited there was a healthy stream of takeouts being despatched throughout the evening.
Open Monday to Friday 930 to Midnight with late closing on Sunday and Saturday you will find Hemingways by travelling along Thappraya road Jomtien, turning right at the Hanuman statue to continue towards beach road and then right into the entrance for Jomtien Complex Condo (just before the arch). – Cheers!